"Earth laughs in flowers"
Ralph W. Emerson
~ gardening with Michael ~
My name is Michael Valk and I am one of Evergreen of JC's owners and gardening experts. I have been blessed to have the opportunity to learn and share my gardening experiences with not only my clients, but also my family, friends, and fellow workers present within the staff at Evergreen.
Because of this opportunity my business and customers have given me the ability to learn many aspects of gardening. I have come to realize that there are so many facets of gardening which is one of the reasons that it seems to take on the characteristics of each garden's owner. While I claim to have lot of gardening experience I do not claim to know everything about gardening because of the broad nature of gardening. I lean heavily on the wealth of gardening knowledge that exists within the great staff at Evergreen of JC. The combined knowledge available at our facility will serve you and your gardening needs well.
My role at Evergreen of JC as Co-Owner and Landscape Supervisor has me working closely with Evergreen's retail customer as well as Evergreen's landscape department Within the retail division of Evergreen, I manage the Tree & Shrub and Water Gardening departments. In our landscape service division, I oversee many landscape activities with the assistance of other talented designers and production managers.
These combined roles along with my love of gardening have given me the opportunity to learn and grow my garden experiences. When it comes to gardening, one just has to become comfortable with options and possibilities and be willing to go beyond what the eye always assumes. That's the crazy and unique thing about landscaping and gardening. I have been blessed to employ and work with many landscape designers, gardeners, and customers over my many years in this business. Each one has imparted valuable insights into my journey of gardening experiences.
Within the documentation below, I will share segments of my gardening experiences that I hope you will find useful and adventuresome while you are exploring your own gardening journey. Below is a list of links to my gardening thoughts allowing you to select those that may be of particular interest to you. I hope you enjoy what I have shared and invite you to write and share with me any comments or questions. My email is michaelvalk@centurylink.net and I look forward to hearing from you. Please know that my duties are many and I will reply at my earliest opportunity.
Michael's Articles - Click on links below to view.
Most Recent Posting: Summer Garden Color wt. Daylilies 07/04/13
Knock Out Roses - Getting the most of our your Knock Outs
Low Care Landscape Roses - taking the market by storm
Perennial Salvias - Get the most out of this remarkable perennial
Variegated Carex - unique variegated grass for shade to part sun areas
Water Gardening - It's So Fun !!
Crape Myrtles - Permanent Summer Color !!
Versatility of Gardening & Needed Change
Cool Season Annual Color with Pansies & Violas
Summer Garden Color wt. Daylilies
Knock Out Roses - Getting the most out of your Knock Outs (June 2nd, 2011) BACK TO START
Well, there are few people that haven't heard about Knock Out Roses and their great flowering and low care attributes. One thing that I'll make clear is that this is one fast growing and aggressive flowering shrub beginning its blooming in mid spring and lasting thru fall right up to frost.
What many people understand this, they do not realize that Knock Outs go thru what I call bloom cycles varying on their nature of care. If not pruned regularly, it's common for Knock Out Roses to bloom extremely heavy for a month or so and then go thru somewhat of a resting or heavy bloom development preparing for their next heavy blooming cycle again. I recommend that Knock Out owners use this "resting" period as a time to both prune and fertilize to give them the boost and cleaning needed to keep your Knock Out roses looking great. Now pruning can take on a lot of variations depending on each gardener's preferences and how often they choose to work with their Knock Out roses.
For those who don't want to spend a lot of time on this type of care, a heavy shearing by reducing the overall rose by 15-20% can be done not performing much selectivity on the pruning. This will shape and provide some uniformity within masses of roses and will clean off a lot of old bloom pods which don't always look great on the rose. For those who want to and don't mind spending more time on more timely and selective pruning and dead heading old flowers, this can be done to provide pretty much the same advantages but will usually keep the plant from looking as much like it was shear pruned leaving some natural growth habits and light flowering. Done more often, selective pruning will not show as much of a dramatic span between flowering habits. At the end of May, my Knock Outs had been blooming extremely heavy since mid to late April and had just about completely bloomed out leaving only a few new blooms and buds soon to open. Since my busy schedule doesn't always allow me to manage weekly clean up and pruning, I chose to prune quite heavy reducing appx. 25% of the roses size leaving only new small buds beginning to develop. I have found that the harder you prune, the faster they grow and generate that new blast of color that we all like about Knock Outs.
Also, don't forget to fertilize these Roses every 4-6 weeks usually during these pruning and clean up intervals. I personally suggest you to apply Fertilome Rose Food, Espoma Rose Food, or Mills Magic Rose Fertilizer. These are 3 high quality results proven formulas that will provide consistent nutrients as watering and rainfall carries through to the root system. I suggest that forms of liquid water soluble fertilizer be used as supplements in between granular applications as they do not seem to provide as long lasting of a benefits and are great nutrient boosters to a granular based program.
OK ... to prune or not to prune ... that is the question. Like most things, the more you put into your Knock Outs, the more you will get out of them. Still know that these are the most popular category of low care roses that you're experience and you will never regret adding these to your landscape gardens.
Something that we are experimenting with is the once per year application of Fertilome's Tree & Shrub Systemic Drench insecticide to control pest with emphasis of the Japanese Beetles during their periodic reign. Water your roses with this soil drench insecticide for a season long insecticide treatment that I have been finding beneficial for controlling Japanese Beetles and many other pest.
Low Care Landscape Roses - taking the market by storm (June 2nd, 2011) BACK TO START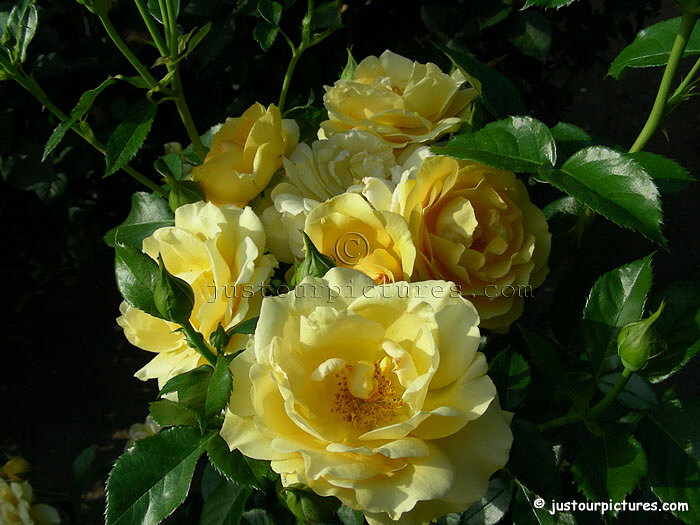 When I reference low care landscape roses or what some reference as shrub roses, I generally mean those varieties that either fall into the shrub or floribunda categories. Those most of these varieties differ from typical Hybrid Tea "long stem picking" roses but are best known for their repeat blooming and low care characteristics.
Much like the Knock Out class of Roses, these varieties produce high volume of shorter stem roses many sharing stems of multiple blooms making them not commonly picked but often just enjoyed in the garden for a vast amount of color in the landscape.
Low care often relates to there higher resistance to common foliar diseases and seeminly less pest problems. Just about any rose in the market place is subject to the seasonal damage caused by Japanese Beetles in June thru early August, one just has to pick there battles to choose how much spraying or trapping they want to perform to control these pesty insects.
There is no doubt in the fact that these lower care roses are simple to grow and very enjoyable in the gardens. Even if you never spray at all, one will commonly experience great results but any form of spraying on an as needed basis for insect or diseases will only ensure a clean highly productive rose for you to enjoy.
Varieties for you to consider are the following:
Knock Out Roses - visit our Knock Out Rose webpage by click on Knock Rose Info
Drift Roses - a new category of low growing small space roses produced by the breeders of the Knock Out Rose
Julia Child Rose - unique yellow flowering floribunda rose for a great yellow shrub rose
Livin Easy Rose - awesome orange flowering shrub roses that's a color that you just can't match in shrub roses
Grandma's Yellow Rose - a great low care shrub rose producing double yellow gold flowers.
White Out Rose - A white selection of shrub rose produced by the breeders of the Knock Out Roses.
Midnight Blue Rose - A unique deep purple shrub rose that can't be matched also being very fragrant.
Lady Elsie May Rose - A shrub rose producing orange / pink semi double flowers.
Cinco De Mayo Rose - A rose with a color to describe. Unique rusty red/orange blossoms are not to be matched.
Remember, like the Knock Out Roses described in the above article, shrub and floribunda roses also prefer being fertilized every 4-6 weeks and a granular based Rose fertilizer. Any form of clean up, pruning, and clean up will only keep these roses looking their best.
Perennial Salvia - Get the most out of this remarkable perennial (June 2nd, 2011) BACK TO START
A perennial favorite that I have is May Night Salvia producing deep blue spike like flowers heavily during the spring season but many don't realize that a little regular pruning and clean up will keep this perennial blooming from nearly spring till frost. What I am referencing as regular pruning and clean up relates to removal of the old bloom spikes well before they are void of any blue color. As these spikes bloom and mature, they will have color on the very tips which is the key time to remove or prune them out keeping this cute perennial in consistent color. If you ever just wait too long and you have found your Salvia nearly totally bloomed out, just prune the entire plant down to a 4-6" mounded shape, fertilize and soon you will be amazed at the reoccurrence of new growth and blooms. This is a perennial that you'll never regret adding to your garden.
Here is a short list of other perennial favorites that I'd like to share:
Moonbeam Coreopsis - awesome lemon yellow small daisy like flowers on this mounding long blooming perennial.
Lucifer Crocosmia - Awesome red flowering spikes on this upright 3-4' tall perennial for summer color.
Russian Sage - Unique silvery contrasting foliage with long lasting summer to fall dusty blue flowers. Awesome perennial !!
Garden Phlox - some great disease resistant varieties are available such as David Phlox.
Daylilies - repeat blooming varieties such as Stella Supreme, Kokomo Sunset, Happy Returns, and many more.
Sedums - late summer to fall blooming varieties such as Autumn Joy, Autumn Fire, Matrona, etc.
Hardy Geraniums - many unique varieties exists but two favorites of mine are Biokovo and Ballerina.
Coral Bells - many colorful foliaged varieties exists and these are great and very hardy in above ground pots. Colorful accent
Variegated Carex - unique variegated grass for shade to part sun areas (June 2nd, 2011) BACK TO START
Well, many ornamental grasses are available on the market and I like many of them. If you are looking for a nice small and colorful accent in the garden especially in those part sun to shade locations, don't pass up the opportunity to use a variety of the variegated Carex or sedge grasses such as Evergold. This unique small grass has fine delicate strongly gren and cream variegated foliage that is a great color addition to your gardens. This grass is also a fairly cold weather perennial meaning that it holds up its foliage during the winter season. Being a perennial, this small 12-16" tall growing perennial does still produce a new flush of foliage every year, so I suggest pruning it back to a tight mound each spring in mid April just before the new foliage begins to poke up its appearance.
Container Gardening Accents (June 11th, 2011) BACK TO START
One of my favorite things to do in my garden, other than watering, is to create and
place containers throughout the garden with a mixed array of gardening color and styles. Honestly, if it will hold dirt, I'll fill it full and plant something. I get somewhat carried away and can have as many as 40-50 types of containers scattered throughout my garden. Yes I know that's a little crazy, but it's really fun.
Container gardening can be so interesting and though I most commonly use arrangements of annual flowers, some select perennials can also be used such as varieties of Coral Bells which I've found being great for containers and hardy throughout the winter season staying in the pots and never being moved.
My favorite thing to do is mix varieties of annuals within the same pot to create a floral flowing like arrangement with taller, medium mounding, and trailing accents within the same pot. I also sometimes just keep simple and place a single variety of items in the pot such as Lantana which is a great heat loving annual that also does great in containers.
One of my favorite combinations is the following:
1-2 Purple Angelonia
1-2 Pink Geraniums
1-2 Tapien Trailing Purple Verbena
1-2 White Snowflake Bacopa
1-2 Lilac Wave Petunias
This combination is one that I repeat yearly in my garden and in other gardens that I maintain for customers. When choosing your container of choice, fill entirely with Evergreen's blended Bloomkote Potting soil that is a ready to use premixed blend of potting soil with Bloomkote slow release fertilize already added. Plant your annuals and don't be afraid to pack them in. I can use anywhere from 6-10 plants for a single pot depending on the size of the pot.
The only downfall on container gardening is that you'll need to be consistent in your watering, but this is what I like about gardening. Watering and playing is my personal time in the garden and can be very stress relieving. Take a shot at container garden ...... I know you'll love it !!
Dragon Wing Begonias (June 11th, 2011) BACK TO START
I don't think that there is a flower that I enjoy more than the Dragon Wing Begonia. This heat and drought tolerant annual is an absolute show stopper that you just can't beat for use in containers, baskets, or in the ground.
A begonia that can be used for full to part sun locations and available in Red and Pink. Once placed in the full sun, the Red Dragon Wing develops an intense bright red color as shown to the left in the pot that I had created. My most common thing to do is purchase a larger size, such as 6-8" or 10" basket and drop it entirely into a single pot and watch it perform.
Guarantee that you'll never be without one once you experience the magic of the Dragon Wing Begonia !!
Water Gardening - It's so Fun!! (June 20th, 2011) BACK TO START
Over my years of gardening both personally and professionally, I have become attracted to water gardening. Along with having water gardens within my landscapes for over 20 years, I have also designed and managed water gardens for many of my landscape clients and created Evergreen's water garden department created to supply our retail customer's interest in water gardening.
The neat thing about water gardening is that is can fit just about any persons level of interest. Just like any garden can be customized to meet a gardener's special interest. The sound and appearance of water is so fascinating and attracts all levels of ages. Incorporated into the landscape, water gardens seem to add an element of sound, movement, and life that can be duplicated.
In my landscape, I have a very small water garden, approximately 3'x5' that's nestled into my planting and only seen as you walk to the entry of my home. Very low care and houses just enough fish to keep the appearance of movement, color, and life in the water. In the back of my home, I have a much larger water positioned as the center point of my landscape encapsulated within my landscape. Its size is approximately 18' long by 6-8' wide and is accompanies by 2 recirculation creeks and falls that twine through the surrounding garden. With its generous size, it also includes a variety of aquatic plants as well as a variety of gold fish and koi that are delight for me to feed and enjoy.
A couple of years back, I was designing a extensive landscape make over for my sister's home. This included some extensive retaining walls, new stairway access way to the back entry, and various landscape features and plantings including natural boulder placement, etc. At the last minute, we decided to design in a water garden as a project addition. Though this feature was, in value, a small part of this project's combined budget, it's the single most noticeable feature that's recognized and remembered by my sister Nellie and visitors to her home.
I'll close by making one thing clear to one of the most common misconceptions of water gardening. It sounds time consuming and high maintenance but I'm here to tell you that it isn't. Being an owner of my own business that takes a lot of my time, I don't have the time to spend on any high maintenance tasks and spend most of time I have available for my garden to tweak plantings, water, weed, and customize my garden's appearance. Feeding my fish daily has become a habit for me to interact but this is not actually necessary. Fish, as with many elements of water gardening, are very low maintenance and guidance of how to set up and manage the basic necessities of a water garden will make you a believer in the fun of water gardening.
Perennials & Annuals Combined (June 28th, 2011) BACK TO START
Though I have always had a love for perennials in my garden as selective accents, I have committed a space in my garden for a perennial garden. Within this perennial garden, I have collected a number of my favorites. For a number of years, I enjoyed the mixed of colors and textures that I gained from the perennials but there was always seeming to be something missing beyond the peak season when the majority of my perennials were past their peak blooming season. Though many of my selected perennials are extended bloomers, other varieties produce their bountiful color for 8-12 weeks and are finished.
As I witnessed other gardens including those such as Longwood, Biltmore, NC Arboretum, etc., I discovered the advantages of incorporating other items, such as annual flowers, into my perennial garden to assist in keeping the color more continual within the perennial garden. Over the last couple of years, I have began to incorporate annual pots, small groupings, and evergreens within my perennial garden to give it some body and continued color throughout the summer months.
Though there a number of late summer to fall blooming perennials that assist in keeping my perennial garden alive with color, but I have found this technique very effective something that I think you'd enjoy also. Birdbaths, statuary, containers, sundials, garden art, etc. are also items that really ad to the perennial garden's appearance.
Here is a quick list of some of my favorite perennials for you to consider for your gardens.
Russian Sage
Moonbeam & Zagreb Coreopsis
Crocosmia Montbretia Lucifer
Daylilies - Multiple repeat bloom varieties
Rudbeckia Maxima
Hardy Geranium
Garden Phlox
Joe Pye Weed
Moonshine Yarrow
May Night Salvia
Autumn Joy Sedum
Goldstrum Rudbeckia
Hibiscus, Lord Baltimore, Lady Baltimore
Hydrangeas in the Garden !! (July 9th, 2011) BACK TO START
Gardeners have always adored Hydrangeas as beautiful flowering shrubs to add late spring thru fall summer color. With so many varieties of Hydrangea available, one can spread out Hydrangea color from late spring thru the fall season. Many are confused on the many varieties of categories of Hydrangea available and, though I'm going to focus on one of the easiest categories for you to experience, I want to also briefly touch base on the most commonly considered category known as the Mophead & Lacecap Hydrangea. This category is also sometimes referenced as Bigleaf Hydrangea.
The Mophead or Bigleaf Hydrangea category is easier to recognize as those producing those large rounded flower heads that can range from pinks to blues tones varying on soil pH levels. Yes, this means that most of these varieties are pH sensitive meaning that you can vary the bloom color by altering the soil's pH level. More acidic means bluer colors and more alkaline "sweet" means pink colors. The most important thing to remember on this Hydrangea category is that they primarily bloom on old wood that survives the winter season. This makes these are sometimes sensitive to bloom since some winter conditions freeze down the wood to the ground only producing new growth from the base meaning "new wood" that doesn't typically flower.
The answer to this problem has now been solved by the release of the Endless Summer Hydrangea series that bloom on old and new wood. This feature not only ensure flowering on these blooming beauties, but also creates some re-blooming tendencies from summer thru fall seasons. Now, that's enough on this category.
One of my favorites categories of Hydranea that bloom without fail are the Hydrangea paniculata varieties. This bloom primarily on new wood and growth produced in the spring and early summer season and come in an arrange of colors ranging from white & cream with hues of lime green and many of the varieties have bloom petals maturing to hues of maroon or mauve creating beautiful color combinations. Varieties vary from sizes growing from 2-3' tall all the way up to 6-10' tall.
Here is a quick list of varieties available for you to consider.
Pinky Winky Hydrangea

Quick Fire Hydrangea

Lime Light Hydrangea

Little Lime Hydrangea

Vanilla Strawberry

Pee Gee Hydrangea

BoBo Hydrangtea

Bombshell Hydrangea

Sweet Summer Hydrangea
Crape Myrtles - Permanent Summer Color !! (August 9th, 2011) BACK TO START
20 years ago, Crape Myrtles were a landscape staple of the south, but variety adaptations and possible climate changes have allowed Crape Myrtles to become options for the transition area of upper East TN. Many gardener's experience the problem of their garden's summer color beginning to play out due to spring's seasonal peaks, summer heat and drought, and climate conditions just too hot to plunder in the soil and plant.
The heat loving summer color producing attributes of Crape Myrtles can be a fix for your gardens. Once established, Crape Myrtles are simply magnificent options for that blast of added color to your landscape and, on top of all that, you don't have to replant them. Varieties are available to not only give you a host of color options, but also sizes ranging from 18" all the way up to 20-25' tall. There is a Crape Myrtle that will fit just about anywhere in your garden with the exception of shady areas. These beauties are full sun lovers, so give them plenty of light.
There are too many varieties to mention, so you just need to come by and explore the many size and color options that you can consider adding to your garden. One category that I will discuss are the dwarf varieties of Crape Myrtles that grow 18-36" tall. I was recently visiting a site where our landscape department had planted Cherry Dazzle Crape Myrtles in a commercial landscape and they were absolutely stunning. This is a dwarf red variety that will simply knock out eyes out when it's in full bloom. One thing that I will caution you about Dwarf Crape Myrtles as shrubs in the landscape, they are slow to produce new growth in the spring, so you have a 4-5 month period of time that they just don't look
that great. This means that you need to use caution in placing them in areas where year round stability is needed. They are great shrubs to be as secondary support, accent, massing below other evergreens, or other ways that they seasonal void doesn't cause a problem. On many of the dwarf varieties, it's common to experience some dieback during the first 1-2 winters seasons, but be patient and you'll see how these beauties bounce back once the late spring and summer heats forces out an abundance of new growth and flowers for the summer/early fall season. Another good variety that grows 4-5' tall and wide is Victor which is a slightly larger shrub form of Dwarf Crape Myrtle or the Magic Series of Crapes Myrtles to include Plum Magic, Purple Magic, Moonlight Magic, Coral Magic, and Midnight Magic. These provide you a great mid size 4-6' height range for versatility in the landscape.
Dwarf varieties for you to consider are the following:
Cherry Dazzle - Bright red flowers growing 3' tall by 4' wide (shown in picture above)
Berry Dazzle - Reddish Pink blossoms on a shrub growing 3' tall by 4' wide.
Pocomoke - Dark rosy pink flowers
Sacramento Weeping - Medium pink flowers growing 18-24" tall by 3-4' wide - shown in picture above
Versatility of Gardening & Needed Change (September 5th, 2011) BACK TO START
Well, we all know how change is evident in nature and it provides us continual representation of how sometimes natural catastrophes bring about change in our environment. I was reminded of this when we were experiencing our last spring wind storms when one of my nice developed flowering trees, a Forest Pansy Redbud, was split right down the middle.
Whether caused by storms, pests, or other physical damaging factors, sometimes our landscapes are required to be altered and commonly when we are least expecting change to be needed. Being a landscape designer, I have often witnessed such situations and usually the disgust of garden owners during situations like this. I also have seen such situations create changes in gardens that were later appreciated by garden owners. Usually these changes wouldn't have happened otherwise.
Does this mean that ones should just let things happen as they may. Well, certainly not. I think it's important for us to prevent and ward off any form of catastrophe whenever possible. One can also accept appreciate the wonderful versatility that gardening provides. Sometimes our personal lives do not have that type of flexibility, so it's refreshing to just jump into and change a spot in the garden that has gotten a little stalemate and yearning for a fresh new look.
So, observe your garden today and look at those locations that could use a facelift or fresh start. I appreciate those garden owners who lean on me for my seasonal management and meet with me on occasion to just walk and observe areas of the garden that could use some change. Remember, change can come in many forms and can be accomplished by pruning renovations, selective replacements, and total redo's for those areas needing a total make over.
Weeding is not so bad !! (September 8th, 2011) BACK TO START
Weeding can be one of the most negative thoughts when considering gardening and its many tasks. For some, weeding is just another task that gets them in the garden and they enjoy every minute of it. For others, it's a burden and undesired chore that they often put off until the problem gets too severe.
I'm sure one of the biggest differences has to do with the level of gardening that one possesses compared to others. For me, just wandering thru my gardening managing watering and weeding tasks gets me in an inspection mode allowing me to analyze, nip & tip, and perform various quick gardening tasks. Weeding, once gotten under control, can become a quick and easy task, but getting and generally keeping it under control is the ticket.
I answer a lot of calls for worrisome garden owners who have gotten frustrated with weeds in their gardens. Though much about weeding in landscape plantings compared to lawns is much the same, my discussion is much focused today on landscape plantings commonly being mulched areas. Referencing mulch is just one good place to start as mulch provides one of the controls against weeds. No, mulch doesn't typically choke out weeds or prevent them entirely, but it does block out the sunlight exposure to the soil's surface which is all a dormant weed seed needs to germinate in the right conditions. Not allowing weeds to get large enough to go to seed is another good control method eliminating the source of future weed crops.
Here are some tips of successful weeding in the garden.
Don't let your weeds get out of hand - A little weeding weekly is the key

Learn how to use spot spraying techniques with a non selective herbicide, such as HiYield Kill-Z-All, to spot spray and kill out those difficult broadleaf and grass weeds.

Remember to apply a pre-emergent herbicide in early to mid spring to assist in preventing those weed seeds from germinating and growing into a problem for you. We suggest HiYield Weed & Grass Stopper which is an easy granular product that you just sprinkle down over the surface of the mulched areas.

When pulling, try to pull out root and all when possible. A good time to weed is soon after a rainfall as it softens up the soil and makes weeding and pulling a much easier tasks.

Carry around a small gardening bucket or bag with you so you can toss weeds into that you pull and don't leave them lying to become seed sources or an general eye sore.

Do a little her and there and try not to let your weed problem get so large that you dread looking at at your garden. If you have to play catch up, pick an area and do it right so you can get back in control of your garden spots in stages.

If weeding is just a chore that you don't want to do, remember that there are professionals, such as Evergreen's landscape and maintenance services, that will assist you with these tasks. Do not let it thwart your satisfaction of gardening as its too precious of a gift to waste.
Cool Season Annual Color with Pansies & Violas (November 6th, 2011) BACK TO START
Well, if you haven't utilize the benefits of cool season annuals for seasonal annual color in your home or business landscapes, you are just missing out. Everyone is familiar with warm season annuals but often do not realize that there are options to consider filling those flower beds with color during the cool season as well.
Warm season annuals fill your garden flower spot with color from May till October but cooler temps bringing on frost and freezing weather limits them to this 6 month period of time. Cool season annuals, primarily being Pansies and Violas, are flowering annuals that you can utilize to fill up those empty flower spots and that will provide you with color during the cooler months of October thru May till you swap them out again with your favorite warm season annuals.
Yes, it's hard to believe that these delicate looking flowering annuals will tolerate and survive the winter season and all of it's harshness but you just have to try them out to experience this for yourself. One thing that we really encourage is to get them well established by planting in October to early December to get their roots well established before the worst of our winter conditions. Varying on the varieties that you plant, you'll see some varieties recede more than others during the harshest of winter conditions but fear not, they will soon poke their blooming heads out again as slight warming trends appear.
When referencing Pansies and Violas, it get a little confusing, since they are all actually Violas. Viola is the botanical name for all of these cool season beauties but what is commonly referenced as a Viola is the smaller bloomed category that I am a big fan of. Don't be worried that these small flowering beauties won't provide you with adequate color because they absolute bloom like crazy and create an absolute mass of color that is every bit as bright and showy as normal pansies. Also, the smaller bloom sized Violas are more cold and heat tolerant meaning that they will produce better and more consistent flowering during the coldest period of the winter and last longer into the late spring and early summer than normal pansies.
One last note about these cool season beauties, if you want to plant cool season annuals in raised above ground pots or planters, I highly encourage using the Violas or the new Plentifall Pansies. These two categories of Violas and Pansies are the most winter hardy varieties available and will almost always tolerate the harsher conditions in above ground conditions.
Well, obviously you see that I am a pansy and viola fan. You will be too once you give these babies a try.
Bird Friendly Gardening (January 3rd, 2012) BACK TO START
Well, there's one thing that I certainly have come to love watching my winter birds. Though my garden has seemed to become a bird sanctuary year round, I notice them so much more during the winter months. It's nice and comforting to see birds playing and feeding throughout the garden and I'm sometimes amazed at the quantity and variety of birds that I have visiting my shrubs, trees, and feeders.
One of the things that will help you create a bird friendly garden is think about their necessities when it come safety as well as food and water supply. Thick branched trees and shrubs provide a place of safety for birds to nestle within and those that are evergreen even provide more protection from the cold winds and wintery conditions.
Food supply are among the most important aspects of managing a bird friendly garden. Winter conditions do not provide the normal food supply as bird often receive from the wildlife, so supplementing their available food will certainly keep them happy and healthy. Food supply can be supplemented by incorporating berry producing trees and shrubs within the landscape such as Holly (evergreen & deciduous), Nandina, Hawthorne, Pyracantha, Beautyberry, & Viburnum. An abundance of bird feeders are available for you to provide a wide choice of bird food types. Some foods and feeders are designed to attract a wide variety of birds and others are designed to attract a defined type of bird or restrict others from feeding. Be careful of those many cheap bird foods that are available on the market today. Many have undesirable fillers that they simply do not eat and waste making these not very efficient to purchase.
Suet cakes are among another type of food that is simply a block of fat or lard that has bird food of some type(s) incorporated within it's content. Why do birds eat suet? Suet is one of the top three foods to feed wild birds. Birds have high metabolic rates. It is not unusual for birds to consume 1/4 to 1/3 their body weight worth of food a day! Offering suet, mixed with the highest quality grains, nuts, fruits, and flavored pellets provides a high caloric energy source.
Here are some links for making your own suet cakes:
http://baltimorebirdclub.org/by/suetrecs.html
http://www.davesrepair.com/DIYhelp/DIYbirdfood.htm
http://www.pallensmith.com/articles/suet-cakes-for-birds
http://ask.yahoo.com/20021226.html
Water is also very important for birds to have access too. Obviously, there are likely many ways for birds to acquire water, but my garden also includes a birdbath and a water garden with a shallow creek making it easy for birds to acquire the water. Though I have and enjoy many types of native birds, I have an abundance of morning doves. Some of these are so fat that I'm amazed that they can even fly. They often visit my feeders and I can have 10-20 doves at a time throughout the garden. Doves require a regular intake of water and they most commonly visit water areas in early mornings and late evenings. My water garden's circulating creek is shallow and dove often stand along the edges and within the middle while drinking. Here is an article that you can view on Morning Doves and their need for water. http://www.noble.org/ag/Wildlife/MourningDoveWater/
Adapting to Seasonal Changes (April 18th, 2012) BACK TO START
I often wonder on what it would be like to not experience the seasonal changes that we receive in upper East TN and the surrounding areas. Though I understand there are pros and cons to all environments, I certainly enjoy the seasonal changes that we get to enjoy. Being a avid gardener and professional in the gardening and landscape industry, I have gained first hand experiences with the fast and sometimes unexpected seasonal changes that really just throw our climate and gardens into a tizzy.
Recently, we were blessed to experience one of the earliest and most consistent warming trends in March that created spring like conditions at least one month in advance. Not just a day or two of nice warm weather, but a long steady warming that had trees, shrubs, perennials, and so many other gardening entities fooled that spring was here to stay. There just not much one can do to change how plants react to these seasonal climate changes.
Of course, immediately following the onset of any quick climate change, we are called by so many gardeners asking questions and worried about things they have planted early or simply trees, shrubs, or perennials busting heavy with spring growth flush and flowers. Though there are steps that can be taken to protect some of your favorites, some gardeners just have too much to cover. During our recent cold snap, I honestly didn't cover anything in my gardens because I wanted to learn and gain experience as to what many customers would see in their gardens. This helps me discuss this topic with customers when they call in.
The good things is that, considering the recent cold snap, generally most things affected received foliage and flower damage which rarely causes any permanent damage to any of the items affected. Some plants weren't affected at all and others took a hard hit having most or all of their foliage frost burnt. This burnt foliage will simply shrivel up and fall off while new growth will continue to develop and push out just like it did originally.
Now, I make all this seem easy as to never fear about these conditions. There are circumstances that we face in our gardens that sometimes cause problems, fatalities, and set backs in our gardens. That's really what my point is in this topic. Being a gardener, you get to watch and experience so many levels of weather and climate conditions and garden conditions. Whether cold or hot, rain or wind, our climate always has a way to affect plants in different ways. This fact can be a challenging but also a fun part about gardening. Each time you experience these conditions, you are then a better gardener. Whether you do anything with what you have learned is up to you, but eventually, you will know what to expect and how to adapt.
Adapting to a garden is among one of the many beauties and characters of gardening that I find interesting. The awakening change of a garden in early spring is always exciting but the seasonal changes of things to look forward too each season is equaling pleasing. When it comes to gardening ... have fun... smile a whole lot ... ask a lot of questions ... and remember to soak up all your experience and used them in all your future garden endeavors. "HAPPY SPRING" :-)
Winter Gardening Interest
(October 20th, 2012) BACK TO START
It's a time of year that many just don't consider the features that can be added add beauty and personality to the home and business gardens. There are a few standard that are commonly used such as the introduction of seasonal color with ornamental
Kale, Cabbage, Collards, Mustard, and a few select other cool seasonal annuals that will add s blast of color to select seasonal flower spots. Also, a favorite for fall thru spring color are Pansies and Violas in the garden which will provide seasonal long color for those flower spots that had succumb to winter's cold. I have become especially fond to the extreme hardiness and consistent color of the Violas which are simply a hardier version of Pansy. If you often see a small percentage of standard Pansy varieties not make it thru the coldest part of the winter, you'll not see this with the Violas. The viola has a small size blossom but the heavier count of flowers will display comparable or more color than the more common Violas. Also different from standard Pansies, Violas will tolerate raised beds, window boxes, and above ground pots and containers where the root and soil area is exposed to much colder freezing conditions.
Now thinking beyond those seasonal flower beds, there are many shrubs that provide nice winter interests. One of the favorite are the family of Nandina that come in an array of growth sizes and display brilliant shades of red to marroon
fall leaf color that will last all winter thru spring until new growth bring on a new green coloration. Plant breeders are producing many new varieties of Nandina such as Flirt, Obsession, Blush Pink, Tuscan Flame, Sienna Sunrise. These are all varieties that provide enhanced foliage and growth features.
Other favorites for the garden are shrubs with fall and winter fruiting berry features. Many Holly varieties provides evergreen foliage adorned with red berries throughout the fall and winter season. Pyracantha varieties provide red and orange winter berry features while varieties of Chokeberry provide red and black berry features. Most flowering crabapple tree varieties produce winter interest in small "non messy" fruiting features that heavily adorn the tree's entire structure. There are many varieties beyond these that contain fall and winter seasonal interest to your garden.
Last but not least are the newly developed hybridized Winter series and April series of Camellia. Most think of southern climates when thinking about Camellia but the over the last 10 years, there have been newer cold hardy varieties of Camellia that have been introduced to be hard down to zone 6. We have been having great success with these cold hardy Camellia varieties which produce not only awesome shiny green evergreen foliage but also beautiful flowers during the months of November thru April. The Winter series will produce blossoms from November thru January with some even repeating into the early spring months. The April series will produce flowers from late March thru early May. An arrow of colors and growth sizes are available, so considering adding Camellia to your gardens today. Remember, Camellias like to be exposed to part sun to shady locations in the garden which does give some options to those shadier garden locations. Position Camellias in areas away from strong winter wind exposures.
Early Spring in East Tennessee (March 5th, 2013) BACK TO START
Well it's now beyond the middle of March and I hear so many requests for spring's approach while talking too and sharing with so many Evergreen of JC customers. The areas at Evergreen of Johnson City begin with the hustle & bustle that spring demands and desires create. Both customers and workers alike share the spaces at Evergreen to begin activating their spring senses.
Though my profession in this industry has me not always paying close attention to my personal gardening space at home, I'm still always in awe and amazed at the natural transformation a garden goes thru during the early to mid spring season. It just comes to life before your eyes and continues flowering and so many features of a custom landscape begin to adorn your views and simply make you smile.
Early spring in East TN is often trying to our landscapes. The tremendous fluctuating weather patterns our area receives often has our gardens and plants not quite knowing when to lay and when to jump. It's possible for us to receive 70 degree weather followed by cool swings as low as the teens with a matter of 2-3 days. Plants activate and plants then shut down and this back and forth yo yo is difficult to manage.
Here are a few tips that you can use to make your early spring gardening more enjoyable. First, I suggest being patient. Our early spring conditions can sometimes just get your in full swing of things possibly planting or performing some tasks a tad too early. Winter and early spring is a season for preparation and planning. Clean up, fertilizing, mulching, and creating those new spaces are great time consuming chores that will keep your spring juices challenged. Many cool season annuals can be planted during the April frost zone that sometimes continues into early May but be careful to not plant those more tender annuals before our frosty weather has subsided.
Second, if you have some tender shrubs or perennials that often get stricken and temporarily damaged by late spring frosts, keep on hand some frost blank cover or utilize lighter weight blankets or items of fabric in lieu of plastic material to prepare for covering such items during select frost expected nights. Wind and cloudy days help prevent frost but I guarantee we'll be in for several more had frosty mornings.
Third, my experience is that early spring is just about the most premier time to generally cleanup & mulch beds and to prune and prepare your beds for spring's oncoming growth flush. So many plants prefer to go into this enormous growth surge correctly pruned though there are many exceptions that you can learn when you talk and interact with our gardening experts. Some flowering shrubs need pruning after their spring flower, some summer flowering shrubs prefer to be pruned before new spring growth and a few exceptions do not. Man, that can be confusing so let us help you. Ask and we'll share!!
Fourth ..... just try to sit back and embrace spring's emergence and smile as much as you possibly can :-)
Just a last minute note that so many people don't remember or realize. Maple trees covering one of our widest categories of shade and ornamental trees required to be pruned mid to late fall after leaf color has finished or mid spring but not necessarily in the months of December thru early March. The sap in Maple trees, unlike most other trees, are high and running during this time and excessive bleeding will occur when pruning during this time. It's one of the odd exceptions that most just don't realize.
Dazzling Abelia Foliage Color (April 10th, 2013) BACK TO START
Within the last few years, a group of Abelia have come onto the gardening market place that provide features way beyond that which the old faithful Abelia have always offered. Abelia offer great summer flowering for an appx. 2 month period of time and grew from 4-6' tall and have always been known to be deciduous. These new varieties of Abelia have provided much enhancements of the common Abelia.
Colorful foliage that has proven to be primarily evergreen throughout our winter season, long extended summer blooming periods continuing for several months, and a lower growth habit being maintained from 18-30" tall are among the awesome features these new Abelia provide. The gold and white variegated margins also turn to a bronze maroom color in the winter providing even further seasonal interests.
Two varieties that I'll note for you to try are Kaleidoscope and Twist of Lime Abelia. The brilliant foliage and flowering of these two varieties are a sure for your garden. Low growing flowering evergreens for full sun are a hard category to fill sometimes in our area.
Summer Garden Color with Daylilies (July 4th, 2013) BACK TO START
My experience with my landscape is that perennials are at their peak during the months of June and July. Though I manage selective perennial placement as accents throughout my landscape, I have a dedicated perennial garden area that displays a nice blended mixture of perennials emphasizing on summer color varieties. Though there are earlier spring and fall blooming varieties within, the color in June and July is outstanding.
One of my many favorites are daylilies that come in an array of colors, bloom sizes, and growth heights relating to foliage and flower stalks referred to as "scapes". The name daylily is derived from a Greek work "Hemerocallis" being "Beautiful for a Day". Though each flower blossom is only shared for a single day, continual buds open daily creating an continual flowering appearance for a summer flowering season varying in length within specific varieties. The newest craze over the last 10 years are repeat blooms varieties that produce a 2-3 series of scapes "flower stalks" and are considering repeat blooming daylilies.
There are numerous varieties and categories of daylilies that you can select from to adorn your gardens. I personally like select varieties that have shorter growing foliage and scapes as to not become so messy or overwhelming within the garden; however, taller varieties mix well within taller perennial masses and create tall scapes that reach above other foliage massing below.
Some varieties that I have found pleasing that I commonly use are Stella Supreme, Happy Returns, Strawberry Candy, Siloam Double Classic, Montego Melon, Fairy Tale Pink, and All Fired Up. There's a daylily for ever need and even some varieties that are night bloomers for those collectors that want to have that unusual daylily that opens and shares it color only in the evening till the next morning.
As a manager of many landscapes over my years of profession, I have began choosing to totally cut down the entire foliage mass in late summer after flowering with some exceptions of some repeat bloomers but this decision often is based on the current condition and appearance of the foliage at that time. During hot day seasons, daylily clumps can often become a little worn looking with lots of yellow or browning foliage. My experience is totally cutting down the foliage creates a quick reoccurring flush of new clean dark green foliage and often a new set of scapes for additional color. How it affects the color or flowering stalks varies but there's no doubt that the quality of the foliage clumps will be much appreciated.
BACK TO START Back to Top Back to Home Back To Lots of Gardening Info