New Introductions
Cold Hardy Camellias Drift Roses
New Dogwood Varieties Bloomerang Lilacs
Double Take Storm Quince Incrediball Hydrangea Invincibelle Spirit Hydrangea
Blue Chip Butterfly Bush Miss Ruby Butterfly Bush Pinky Winky Hydrangea
There was once a time that Camellias were only considered for Southern gardens with less harsh winter conditions. To the benefit of the Tennessee area, new cold hardy varieties of Camellias are now available hardy down to Zone 6 making them great for our area landscapes.
These beauties display beaufiul glossy evergreen foliage that is best protected when being kept out of harsh westerly winter winds. Camellias prefer part sun to shade conditions thriving in high indirect light or partial sun exposures. Given careful placement & protection, Camellias can adorn your gardens with awesome fall to early spring color.
The hardy camellias available for our area include varieties within either the Winter series Camellias or the April series Camellias. The Winter series Camellias begin to produce their blossoms in late October continuing through the winter into early spring. The April series Camellias begin flowering in early spring and continue blossoming thru the spring season.
Here is a sample of Hardy Camellias now available at Evergreen:

Winter Star Camellia: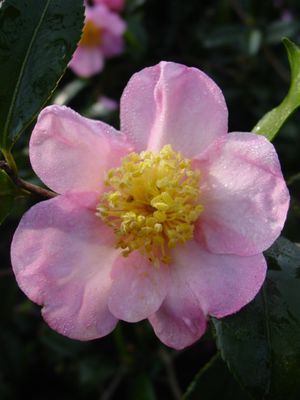 This is one of the larger Camellia varieties producing medium pink blossoms in late fall continuing thru the winter season and lightly blooming again in the spring. One of the hardiest varieties maturing to a height of
8-10' tall by 6' wide.
Winter's Snowman Camellia:

This is a white blooming variety with an upright growth habit reaching 8'+ tall by only 4-5' wide with a column like growth habit. New growth of this variety is reddish maturing to green. Blossoms in months of November & December.
April Tryst Camellia:

This is a beautiful variety producing double red rose like flowers in early to mid spring. This compact growing variety grows only 4-6' tall wide producing large dark green glossy foliage that is very attractive all by itself.
April Dawn Camellia:

This variety produces double white blossoms streaked with dark pink colorations. Large deep green glossy foliage on a shrub growing 5-8' tall by 4-5' wide makes this a great addition to the landscape.
Spring's Promise Camellia:

This variety is another compact grower maturing 5-6' tall & wide. Uniquely, this variety often blooms mid winter and early spring creating a long spiratic bloomsing season. Reddish pink flowers with yellow centers make this a variety worth
choosing for the gardens.
A breakthrough in rose hybridizing, the Drifts are compact groundcover roses that are a result from the crossing of miniature and groundcover roses. Their versatile habit fits equally well into small home gardens and come along with the ease of care commonly known in the Knock Out Roses family who share the origin of the same breeder.
The Drifts have been tested extensively under diverse climate conditions and are winter hardy in Zone 5. Unlike the well known Knock Out Roses, the Drifts grow much small in the 1.5-2' height range spreading to 3-4' wide creating a low massing of bright color. 7 Varieties of Drift Roses are available in White, Reds, Peach, Apricot, and Pink colors.
Want a blast of low maintenance color in your gardens that will last throughout the years, try the newest release of the Drift Roses.
Apricot Drift:
Apricot Drift® exhibits a true groundcover habit and offers a fresh look to the series. Double apricot colored flowers begin flowering in spring and display a season-long show of color. It is just as tough and disease resistant as others in the Drift® series. Best suited for small gardens or along paths and walkways.
Peach Drift:
Peach Drift® is one of the most floriferous dwarf shrubs available. Soft peach blooms cover the plant from mid Spring to the first hard freeze of late Fall. Peach Drift® pairs well with existing perennials in any landscape. The mature plant is approximately 1½' by 2' and exhibits strong disease resistance.
Sweet Drift:
Clear pink double flowers seem to float in clusters atop dark green glossy foliage. Most double-flowered of all the Drift® Roses. Abundant and continuous flowering in addition to exceptional disease resistance makes this a perfect choice for use along pathways, hillsides or at the front of a border.
Red Drift:
Red Drift® has the most petite flowers of all of the Drift® Roses. It is perfect for use in front of border plantings. Red Drift® makes a beautiful statement when it drapes naturally over a rock wall or edge. Mature height is less than 1½' with a wider spread. Great flower power and disease resistance
Bright coral-orange blooms cover this small mounding shrub from mid Spring to mid Fall. Coral Drift® has the most vibrant flowers that catch your eye from anywhere. Mix and match with similar or contrasting colors to really wow. Fully Winter hardy and disease resistant.
Pink Drift:
Pink Drift® is low-growing with distinctive mounded flowers that reach 1½' in height with a 3' spread. Deep pink flowers with a soft faded center bloom in abundance throughout the season. This disease-resistant plant is easy to care for and easy to combine with other perennials.
Icy Drift:
The newest introduction to the popular Drift® series, Icy Drift® has small, pure white double blooms that form from late spring/early summer through frost. The flowers are borne abundantly in large clusters. The disease resistance is exceptional. Medium green glossy foliage helps to highlight the clean white blossoms.
Dogwoods - New Varieties At Evergreen
There's much research in the making on improving Dogwoods and their performance in the landscape. Improvements in Dogwoods are increasing their resistance to Powdery Mildrew, Dogwood Anthracnose, Dogwood Borer, and overall performance.
New varieties of the Kousa Chinese Dogwoods are being developed making this variety more and more popular in the landscape. Hybridized cross between the Kousa and standard Cornus florida dogwoods are creating the benefits are combining these two species features. Last, but certainly not least, the new Appalachian series Dogwoods found and developed thru native Dogwood sources are giving Dogwoods a new fresh look in the landscape.
Check out these varieties now available at Evergreen.
Galilean Kousa Dogwood:
This dogwood variety displays enormous hunter green foliage that stands out among the rest of all dogwoods. Creamy white flowers are born mid to late spring after the foliage has emerged making this timing unique in the landscape.
Bright red fruit is displayed in the early fall season followed by awesome red orange fall leaf color. Great cold tolerance.
Samaritan Kousa Dogwood
This new dogwood displays boldly variegated, creamy white and green foliage contributes a show of color throughout the spring and summer months, when strawberry-like red fruits appear. This handsome tree cranks up the color in fall when the multi-colored leaves turn to rich pink and burgundy. This lovely, all-season performer bears prolific white blooms in May and June after most flowering trees have finished blooming. Upright branches form a vase-shaped canopy that grows to a height of about 25' & a spread of 20'. Hardy to Zone 4.
Good disease resistance.
Chinese Prophet Kousa Dogwood
This is another great Kousa dogwood variety displaying large deep green foliage on one of the fastest developing varieties available. Creamy white flowers produced in late spring backed by beautiful green foliage makes this tree striking.
Orange to red fall decorative fruit, red orange fall leaf color, and mottled exfoliating bark with age are among this tree's unique features. Good disease resistance.
Appalachian Blush Dogwood
One of the new Appalachian Series Dogwood displaying great resistance to Powdery Mildew. This dogwood variety produces very large white blossoms in spring pink hints around the outer edges of the flower bracts.
Grows 15-25' tall & wide and has nice fall red foliage color. Produces red berries adding fall interest.
Appalachian Mist Dogwood
A good Appalachian release that has great disease resistance to Powdery Mildew. This variety produces creamy white flowers that are very stiff with purplish clefts.
Grows 15-25' tall & wide. Produces red berries adding fall interest.
Stellar Pink Dogwood
This variety of the Kousa / Florida Dogwood cross is a variety producing a pinkish white flower in late spring. Expect a variation of pink and white in the blossom that can vary from location to location. Resistant to Dogwood Anthracnose & Borers.
Good purple red fall leaf color but no fall fruit is produced on this variety. Grows 15-20' tall & wide. Stellar Pink is a vigorous grower.
Constellation Dogwood
Another cross variety between the Kousa & Florida Dogwoods producing great features such as creamy white flowers in mid spring, good disease resistance, nice fall foliage color. These Kousa/Florida cross usually begin blooming when our native or Florida dogwoods finish blooming, but are slightly earlier than straight Kousa varieties.
Good cold hardiness and grows 20-25' tall & wide. Good disease & borer resistance. Fall fruit is not produced on this variety.
Aurora Dogwood
A Kousa / Florida cross variety displaying unique featues such as overlapping flower bracts on large creamy white blossoms, erect growth habit, good disease & borer resistance, & reddish orange to purple fall foliage color.
Good disease & borer resistance with a growth habit reaching 25' tall & wide. Sterile flowers causes this variety to not produce fall fruit.
Keeps coming back for more. You know how much you love the fragrance and color of lilacs in spring. Now you can enjoy the show throughout much of the summer. This repeat bloomer sports deep purple flower clusters that fade to pink. A magnet for butterflies and hummingbirds. Stays compact at 5 feet tall and a 6 foot spread. Vigorous, very hardy and deer resistant.
This new series of flowering Quince is a whole new beginning to quince as we know them. These 3 new Quince are part of the Double Take Storm Series Quince that taunt their double flowers, thornless branches, fruitless habit, and deer resistance.
Three new varieties all growing in the range of 3-4' tall and 4-5' wide include:
- Double Take Scarlet Storm
- Double Take Pink Storm
- Double Take Orange Storm
This new Hydrangea is an adaptable native plant producing huge flowers (as much as 12″ across) is reliable and beautiful. Very cold hardy, Incrediball blooms on new growth so even very cold winters won't keep it from blooming. The flowers are held upright on very sturdy stems, so they don't flop like the original
'Annabelle' Hydrangea will. A great addition for part sun to part shade environments.
It's the pink 'Annabelle' hydrangea! Invincibelle Spirit is as hardy and adaptable as
'Annabelle' but produces loads of hot pink flowers from early summer to frost. It's a reliable bloomer in the north and is also heat tolerant.
Rich pink flowers bloom from early summer to frost. Dark pink buds open to hot pink flowers which then turn soft pinkAmericas as they mature, finally changing to green at the end of their life cycle. Very hardy. Reliable bloomer.
• Cut Flower
• Deadheading Not Necessary
• Heat Tolerant
• Landscape Plant
• Low Maintenance
• Native to the
This is a new great lower growing Butterfly Bush producing a more compact
growth habit reaching 4' but able to be pruned and managed in the 2-3' height range. Beautiful fragrant bluish purple flowers are produced from late spring thru fall requirng little or no dead heading to provide continual flowering. Also known as Lo & Behold Butterfly Bush.
Another great new Buttefly bush variety release producing bright pinkish purple
color blossoms on a semi compact Butterfly Bush growth habit. Grows 4-5'' tall by 3-4' wide. Easy to grow and a color like no other Butterfly Bush you've seen.
Compact 4-5' tall habit

Attracts Butterflies & Hummingbirds

Easy to grow.

Long blooming season

Very Hardy

Brightly colored pinkish purple flowers
Hydrangea are gardener's favorites when it comes to flowering landscape shrubs. Many Hydrangea varieties are difficult to grow, but v
arieties of the Hydrangea paniculata family are ones that you just can't go wrong with. Consider the unique Proven Winners release, the Pinky Winky Hydrangea that will bloom year after year without fail.
This cold hardy Hydrangea produces 12-16" long white blossoms taking on two tone pink tones as the blooms begin to mature in late summer to fall. Absolutely stunning for the garden. Prefers full sun and grow 6-8' tall but can be managed smaller with yearly spring pruning.